About the Trail
The Kal-Haven Trail is a 33 mile former railroad bed, made of hard-packed limestone and slag, and has many picnic, water stops, and outhouses along the way. It passes through small towns and historical sights. Stop in and see us in Gobles at the 20 mile mark, right next to the trail!
Enjoy hiking, biking, cross country skiing, and snowmobiling between South Haven and Kalamazoo, plus connect to the Kalamazoo River Valley Trail on which you can go north to D Avenue toward Plainwell, or east to 35th street in Comstock.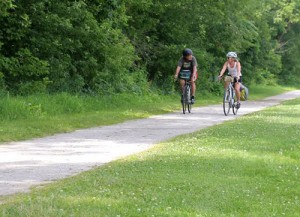 ---
Get Involved
This is a community brewery. If you'd like to get involved, we'd love to hear from you. If you have materials to donate, time to give, or ideas, contact us. Every bit of help gets us closer to opening.
Bar Stool Fundraiser
Be a legend at DirtBag Brewing Company with your own engraved barstool. Here's how!
Be the First to Own a Growler!
Be the first to own a hand-made, 64 oz handcrafted ceramic Dirtbag Brewery Growler. A piece of art to tote your favorite beers in. On Sale now through our
SHOP
> page.