About Cabbage Bros. Bikes
Cabbage Bros. Bicycles is Kalamazoo's first mobile bicycle rental service. They have a fleet of newer comfort-hybrid bicycles which are perfect for our local rail trails or a casual ride through the city or county.
CBB offers a variety of professional bicycle repair services and offers Ubeercross Bike Day Tours to many of Michigan's Breweries that are accessible from the Kal-Haven and Kalamazoo River Valley trail systems and surface roads.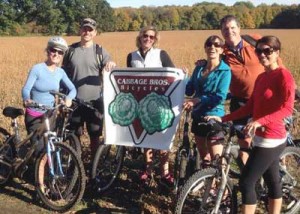 To see them in action, visit their Facebook page. Call 269.744.7061 or message them on Facebook for rental or repair information.
Get Involved
This is a community brewery. If you'd like to get involved, we'd love to hear from you. If you have materials to donate, time to give, or ideas, contact us. Every bit of help gets us closer to opening.
Bar Stool Fundraiser
Be a legend at DirtBag Brewing Company with your own engraved barstool. Here's how!
Be the First to Own a Growler!
Be the first to own a hand-made, 64 oz handcrafted ceramic Dirtbag Brewery Growler. A piece of art to tote your favorite beers in. On Sale now through our
SHOP
> page.